I'm back with new ideas what to see and what to eat in Dubrovnik. I decided to spend a part of my summer there.  Yes, I admit I love sandy beaches, lagoon water and old castle walls. For me it's much better than modern block of flats everywhere. There is a soul in those places! Are you ready to discover beautiful Dubrovnik and delicious cuisine. You won't be disappointed!
Dubrovnik attractions
Firstly, I decided to see impressive, characteristic and world known old city walls . The first fortifications were built already in the 8th century and modified in the 13th and 14th centuries. The monumental walls that encircle Dubrovnik, punctuated by towers and overlooking the sea, are undoubtedly the city's most famous feature. The city walls are considered to be one of the most grandiose fortification monuments in Europe and are an example of how fort architecture has developed.

While sightseeing Dubrovnik don't miss Stradun. What is that? It is the main street in Dubrovnik Old Town. And undoubtedly one of Europe's most picturesque pedestrian thoroughfares. Running west from Pile Gate to Ploce Gate and the harbor in the east gathers locals and tourist alike. I loved all those cafes, buzz, laughs everywhere… I guess it's ,,must see" in the city.
Good restaurants in Dubrovnik
When it comes to the lunch time, I choose Nautika. This restaurant is elevated above sea level. For me, eating at a restaurant with a great view is a quintessential experience! From its terrace it offers spectacular views of the sea and the beautiful Dubrovnik. I tried green menestra, a smoked meat and cabbage stew. And, of course, wine. Since Dubrovnik grape growers and vineyard owners are proud of their quality red wines I simply had to! Ok, my free time is finished. Now it's time to discover more.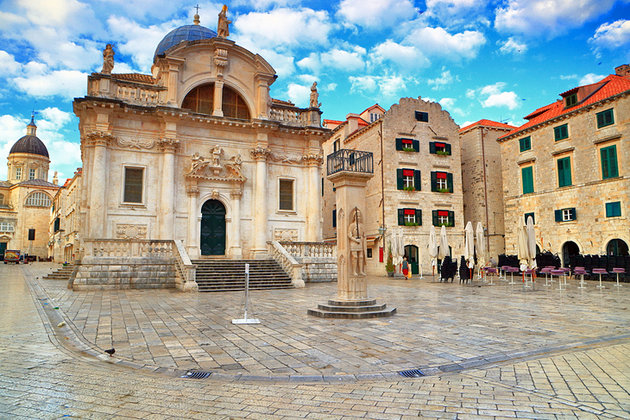 Another Dubrovnik attraction is Dubrovnik Cathedral and Treasury. The Assumption Cathedral is a Roman Catholic cathedral and the seat of the Diocese of Dubrovnik. The Cathedral treasury (Riznica Katedrale) holds 200 reliquaries from the 11th to 18th century. They are simply magnificent. The most famous is a portion of the cross that Jesus is thought to have been crucified upon.
Sightseeing Croatian city…
Next place I decided to see was The Square of the Loggia. Named after theloggia next-door to the famous Sponza Palace , Loggia Square was formerly the market square. Towering above is a Clock Tower dating back to the 15th century and the neighboring Loggia of the Bell, its four bells ringing whenever the city was threatened by invaders.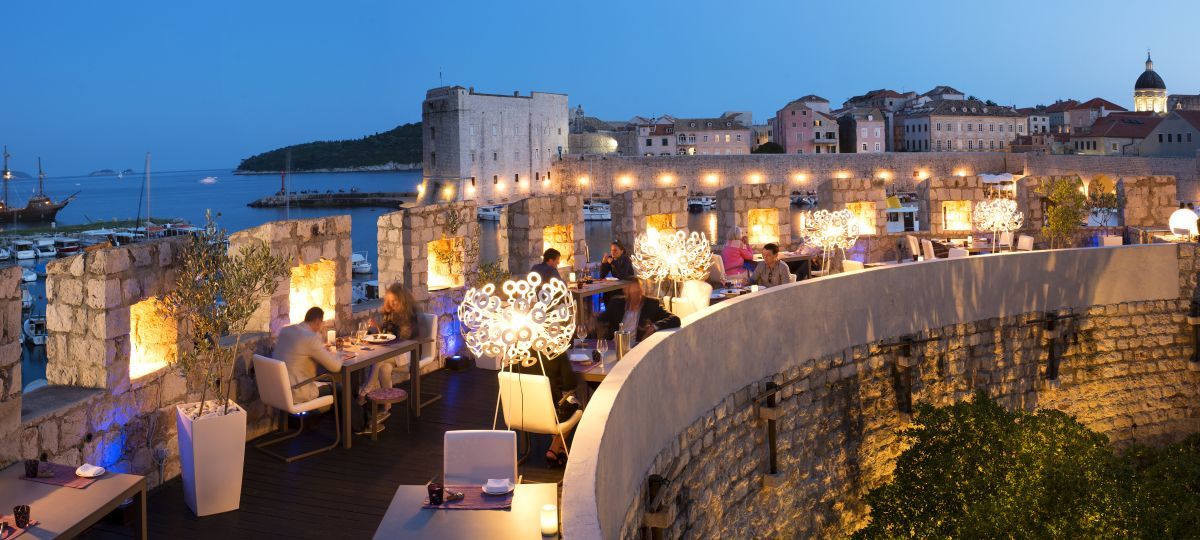 But enough for now! It's time for eating again. I choose Gil's Cafe, because of the magnificent view. They write about themselves:
Situated in the middle of the bustling luminous Old Town of Dubrovnik but tucked away neatly in a little side street allows the perfect balance of summer atmosphere and privacy amongst friends and/or family. Gil's Little Bistro is Little in size and large in quality.
This time I ordered famous Dalmatian octopus salad, black risotto with shellfish. For the dessert I took Dubrovnik Rozata (crème brulee Dubrovnik style).
Croatian Food
To sum up my Croatian stay… It was really warm, tasty and relaxing time. People seem to be always kind, friendly, not rushing anywhere… One day Brodet, other- Pašticada. Vegetarian Soparnik perfect as little snack before the lunch.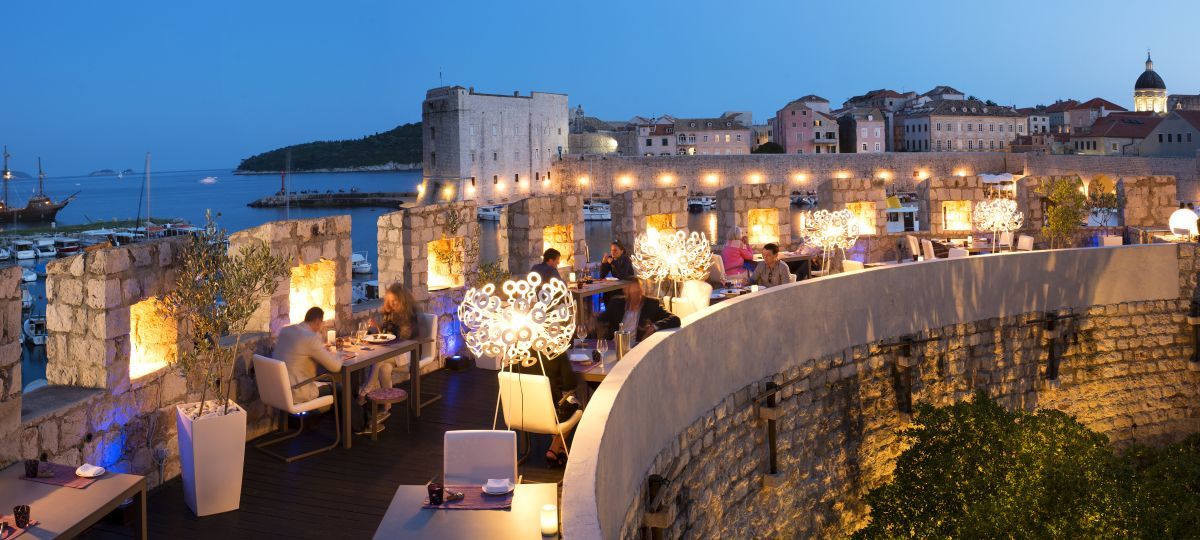 Restaurant in Dubrovnik. Doesn't it taste better when you have such a view?  Eating  lovely, sweet Klipići and watching the sun go down on the sea… The best thing is also how wonderful the restaurants look like and the view you have while eating… I hope those experiences I had will stay with me and one day I will use it to share with my clients.