I would like to  share with you my culinar experience from the south of Spain. I decided to look for Malaga attractions, one of Spain's hottest cultural, gastronomic and leisure destinations. Maybe you wonder why not Madrit or Barcelona? Hm… I guess they are simply so explored, discovered and touristic that there is nothing that can surprise me any more. I was there a few times. But it's time for no less than 15 golden  beaches,  vibrant streets of the old town, the uber cool area of SOHO and many sunny days.  Of course, I will do some sightseeing, how can I miss those attractions which amaze anyone who comes here? And every time when it comes for lunch and dinner time I become a demanding food expert…
What to see in Malaga?
This city rich culture is a mixture of different influences of peple who lived here. Throughout the centuries Malaga was occupied by the Carthaginians, Romans and Arab Maurer, until 1487 when it was conquered by the Christians. That's why the first Malaga attraction I visit is Alcazaba, Malaga's most important landmark. It's a  Moorish fortress set high on a hill overlooking the city. Adjacent to the entrance of the Alcazaba are remnants of a Roman theatre dating to the 1st century BC. Isn't it exciting?  Now it's time for a luch. I will visit El Pimpi.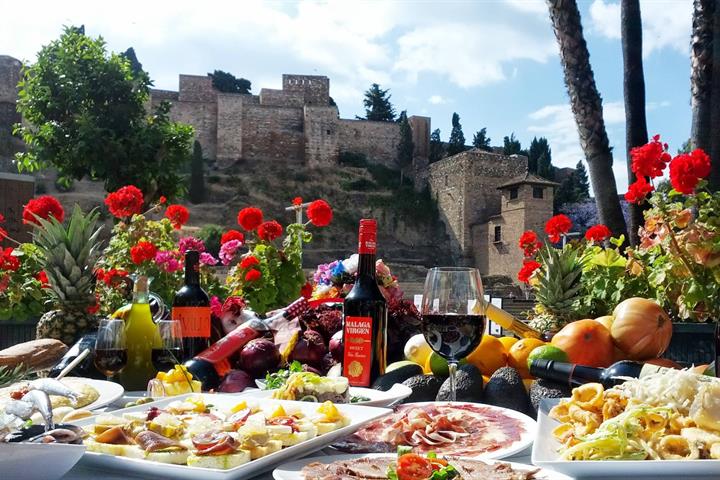 This rambling bar is an institution in this town. A tavern of Spanish delight, see and be seen, especially at lunch, and jammed at night.  If you want to have great view of the Roman theater and Malaga's Alcazaba take a sit in El Pimpi. It definitely has character. I had to try sea food with a wine.
Malaga attractions
Then it came time for checking another position on my Malaga attractions list. It's Picasso Museum.  The people of Malaga are proud of the fact that Picasso was born here.  The Museo Picasso has an enviable collection of 204 works, 155 donated and 49 loaned to the museum. Although I'm just a simple confectioner I appreciated this artist's paintings. But after sighstseeing there was a time for dinner… My choise was Blankko restaurant. I needed to find new-style tapas bar with contemporary décor and innovative dishes. I wanted incisive taste. In Blankko I enjoyed a scrumptious multiple-course menu, which tantalized my taste buds. This place is popular with young couples, friends, groups and families will definitely satisfy you.
Would you like some more Malaga attracitions? Here you are!
Malaga's Renaissance cathedral. 
Its full name is  Nuestra Señora de la Encarnación (Our Lady of Incarnation). lt has a dominating presence in the heart of the old town. The building is one of the best examples of Spanish religious art and it is located on the remains of other cultural buildings such as the early Almohad mosque. It looks beautiful during the day and night.
What to eat in Malaga?
Of course- paella! With sea food, which is freshly taken from the sea. You can also grab some croquetas and patatas bravas with this tasty dip. And you will be full. Another idea  is to  order gazpacho, empanadas and jamon. Of course, let's not forget about dessert. I suggest crema catalana or churros and chocolate. Enjoy those products which are taken straigt from the sea. And I'm sure you won't be disappointed.